Condition: Mental Retardation
Date of birth: 05- 09- 1974
Type of Rehab: Special Education at Nesam, Arcot, India
Education: Special Education
Sponsors – Handicare International, Ontario, Canada
Year of sponsorship: 2004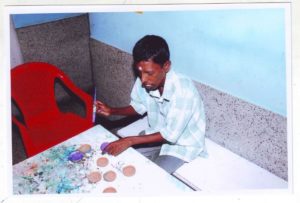 At time of sponsorship 2004
Profile: K.Kannan
Name of the student: K.Kannan
Father's Name/Occupation: Kuppuswamy [expired]
Mother's Name/Occupation: Baby, Aged mother surviving with age pension
Nature of Disability: Mentally retarded. Very poor in conversing or communicating.

Medical History:
He had a normal delivery. While cutting the placenta cord, he cried a lot and immediately developed brain fever. So his periodic growth and activities were much delayed. He started walking only after 5 years

Training Given at Nesam Sc:
Muscular training: Physical exercises and yoga practices are given.
Speech therapy : Special training is given to communicate his needs to others
Educational training: to write down his name and address. To place 5 things in 5 boxes and make them as a group. To learn the rupee – paise calculation to know about cleanliness, to know the daily activities to be
Community training: Good manners and to mingle with other children are taught. He is made to play to sing and to enact with other children. He is trained to keep his environment clean

OTHER CHARACTERISTICS
With physical and yoga training, his listening and attention capacity are improved.
With speech training he is able to communicate better and mingles well in a group.
He is independent in his dressing, eating and toileting behaviours.
He is able to help his mother with minor household chores like fetching water, arranging things in their places, etc.
He is able to write his name and identities the functional words.He comes to the school by walk from his house, through the busy thorough fare (about 10 mins. Walk).
He participates in all the vocational activities like making envelopes, greeting cards, painting, making wax candles and papier-mache furniture.