Condition: Mental Retardation
Date of birth: 26- 03- 1991
Type of Rehab: Special Education at Nesam, Arcot, India
Education: Special Education
Sponsors – Sarla Bhuta, Toronto, Ontario, Canada
Year of sponsorship: 2002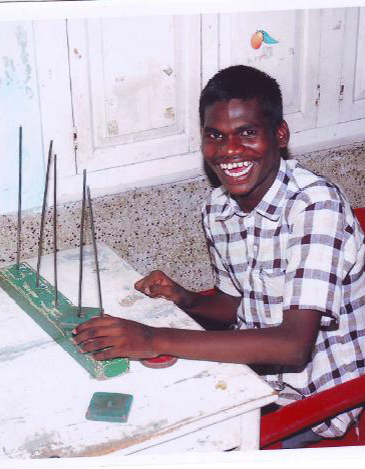 At time of sponsorship 2004
Profile: R.Madan Kumar
Name of the student: R.Madan Kumar
Father's Name/Occupation: Ramakrishnan
Mother's Name/Occupation: Komalavalli Passed 10th Std / House Wife,
Address: C/o. A. Kanakagiri, 98 Annai Indira Nagar, Thalanoor Post, Arcot 632503.
Nature of Disability:
Birth History: First Child, The child was delivered by Caesareansection in CMC Vellore. (due to abnormal presentation). The child did not cry immediately. Developed fits and the child waskept in an incubator for a week and was given to the parents.
Condition of the child on Admission: Moves on his buttocks. Totally dependant for all his daily routine activities. The mother was feeding him.

Medical History:
Training Given at Nesam Sc:
The child is severely affected. Walking training and basic training for his indicating his toileting are given
   –   To eat & drink independently.
   –   Basic classroom activities like arranging the shapes, cups, pointing to common objects etc are given.
   –   Now the boy is eating on his own with spilling.
   –   He indicates his toileting need.
   –   Walks without support.
   –   There is not much improvement in his academic activities.

OTHER CHARACTERISTICS
He is attending the school regularly. He recognising his mother, brother, teachers and other children in our school.  Due to  severity of the disability, he is unable to improve his ability, but his mother (widow) working as teacher in our school is very happy with our school atmosphere and the treatment given to Madan.